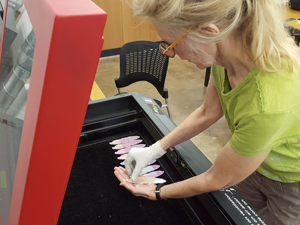 My large-scale installations are concerned with technology's impact on the survival of our species, along with all other interdependent species, as we stumble into the future. Issues I address include speculative possibilities for planetary survival, surveillance, gender, the experience of nature in this digital age, and natural disasters/climate change. To do this, I use diverse media such as sculpture, mixed-media, video, painting, 3D-prints, digital imagery, installation, casting, and drawing. My series share an investigation into the relationships between nature, contemporary culture, and technology, along with their effects on our lives. These connections provide the conceptual resource for multiple, simultaneous series that align through their internal thought processes. All of these series come from my sense that at this precise moment, we are at the tipping point of a world gone wrong.
I also focus on the curatorial and critical aspects of contemporary art, with curated exhibits and reviews in
Delicious Line
,
Art in America, All the Art
and
temporaryartreview
.
Over fifty galleries, museums, institutions, and collections in St. Louis, Berlin, Chicago, Atlanta, California, Ohio, Colorado, Missouri, Maryland, Wisconsin, Arkansas, New York, and Beijing, among others, have exhibited my art, including The Contemporary Art Museum St. Louis, The Arkansas Art Center Museum, the RAC Gallery, The Mitchell Museum, The Maryland Federation of Art Gallery, The Wichita Art Museum, The Neville Museum in Green Bay, The Tweed Museum, The Riverside Museum, The Brea Cultural Center, The Roanoke Museum of Fine Arts, The Butler Institute of American Art, and COCA-The Center for Contemporary Art and Gallery 210, both in St. Louis. In 2018, I was commissioned to create the public artwork
Riverbend,
a 133-foot-long aluminum installation at the Gateway Arch National Park. In 2019, my series
The Space Between
was at The William and Florence Schmidt Art Center.
I will be the teaching Artist in Residence at The Forsyth School in St. Louis, where I live, in fall 2019. I have worked as Professor of Art at St. Louis Community College-Meramec and as Visiting Associate Professor at Washington University in St. Louis and in Florence, Italy, and as a Regional Planning Commission-Historic Preservation Consultant, a Fiscal Analyst for the Missouri State Legislature, a self-employed cake decorator, and a box factory worker.
My studies include Post-Graduate Study in Experimental Electronic Media (video game design, animation, digital drawing and video) at Webster University, a Master of Fine Arts from Washington University in St. Louis, and a Bachelor of Fine Arts from University of Missouri-Columbia.